Posted on July 2, 2010 by LJ Earnest
Categories: LJ On The Web
Estimated reading time: 0 minutes, 16 seconds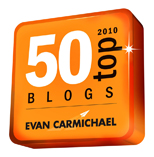 A big thanks to Evan Carmichael.com, who included Simple Productivity Blog as one of The Top 50 Productivity Blogs To Watch in 2010.
I'm very flattered to be included with some of what I consider the top blogs out there, including Zen Habits, Lifehacker, Unclutterer, and Dumb Little Man. Thanks for the shout-out!
---
If you enjoyed this post, please buy me a cup of coffee!